GENERAL LESLIE R. GROVES
Director of the Manhattan Engineer District (best known as the Manhattan Project), which developed the atomic bomb. Using experience he had gained when he directed the construction of the Pentagon, Groves pushed for the quickest possible creation and use of the atomic bomb, using multiple methods and regardless of expense. He appointed J. Robert Oppenheimer to be the director of the Los Alamos laboratory, where the a-bomb was constructed; he was Oppenheimer's boss. Groves, in turn, reported to General George Marshall, the Army Chief of Staff.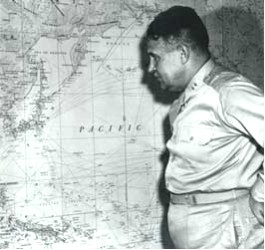 Groves appointed a Target Committee to recommend targets for the atomic bombs. Among the Committee's recommended targets, which were influenced by Groves, was Hiroshima. He also attended some of the Interim Committee meetings, where how the atomic bomb might be used and postwar nuclear issues were discussed.
It was Groves who wrote the order to "deliver its first special bomb as soon as weather will permit visual bombing after about 3 August 1945" that was given to General Carl Spaatz, who was in charge of Air Force operations in the Pacific.
While Groves credited President Truman with the decision to use the atomic bomb, he qualified this by saying, "As far as I was concerned, his decision was one of noninterference - basically, a decision not to upset the existing plans".
Groves was a prime mover in getting the atomic bomb built, on where it would be used, and on when it would be used.
- Doug Long
---
Source for photos: U.S. Department of Defense
---
For further information:
Leslie R. Groves, Now It Can Be Told
William Lawren, The General and the Bomb: A Biography of General Leslie R. Groves, Director of the Manhattan Project
---
To return to the Who's Who and What'd They Do? index, click Who's Who (http://www.doug-long.com/who.htm)
---
To return to the Hiroshima: Was it Necessary? home page, click Home Page (http://www.doug-long.com)